Developing a wordpress theme is not an easy work. It takes too much time for developing a theme with full features that can fulfill all our requirement. It's best to purchase a premium rather then creating a new one because a developer takes too much efforts while developing. There are many themes available in market that can be easily customize by the blogger.
Premium Creative WordPress Themes
Bigbang – Responsive WordPress Template:
Core Minimalist Photography Portfolio: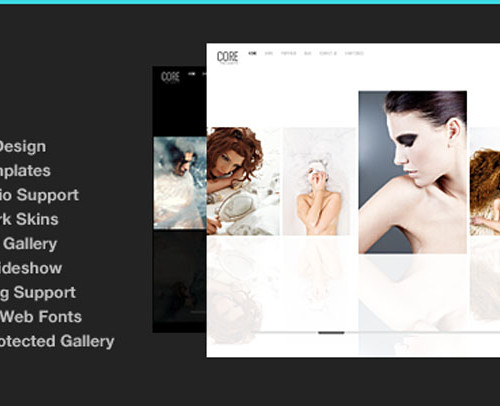 Core is the Minimalist Photography, Portfolio, Personal website Template built with latest WordPress features. Custom Post Type and Image Uploader etc.
Dandelion – Powerful Elegant WordPress Theme: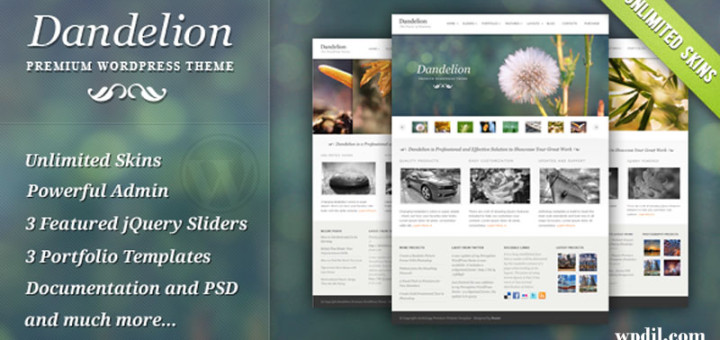 Dandelion is a Powerful Premium WordPress Theme. This theme provides all the main functionality you will need to present your products, work and yourself in an elegant and professional style. The Dandelion theme is highly flexible, so changing the color scheme is super simple and for the most parts you won't need an image editor. The theme is best suited for any business, portfolio, photography and personal sites.
Recommended Reading:-
[hr]
Invictus – A Premium Photographer Portfolio Theme:
Invictus is so easy to use, super versatile and has a fully responsive design! With it's flexible theme, page and post options Invictus is very intuitive to use and completely ready to operate out of the box.
Live Preview
Purchase Now
907 – Responsive WP One Page Parallax: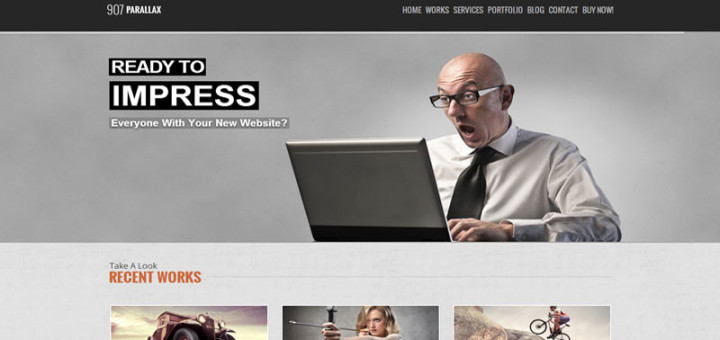 Great one page WP theme with tons of options and features. Not only will the PARALLAX feature be on the main one page, but you can also select a DEFAULT PARALLAX section and even a "page section" to be displayed across all other pages… AND You can change parallax/page sections per blog post/pages, choosing a different one or setting to none.
King Size – Fullscreen Background WordPress Theme:
King Size makes perfect for a variety of purposes, although focused towards Photographers and those using Portfolios to display their past and present work collections. Including a variety of options, King Size can be suitable to fit any particular use. Offering you five very different gallery styles (including 4 additional layout styles for ColorBox, FancyBox and prettyPhoto), with ability to blog about your photos and etc.
Photolux – Photography Portfolio WordPress Theme:
Photolux is a powerful and elegant Portfolio and Photography WordPress Theme which is best suited for photographers and creatives who use portfolios to showcase their work. Photolux theme is powered by theadvanced Pexeto Panel, which provides tons of options to manage and modify any aspect of the theme – it is well suited for both beginners with no coding knowledge and developers.
Salient – Responsive Multi-Purpose Theme:
Scope: Agency / Business WordPress Theme:
Scope is the perfect theme for the creative agency, freelancer or general business. Strong lines, strong colours and a bunch of super-awesome features to keep you busy.
Yin & Yang: Clear and Slick WP Portfolio Theme:
Yin & Yang is a light, minimalistic, simple to use portfolio theme. Quick to setup and easy to customize, thanks to the powerful admin panel, and the detailed documentation, Yin & Yang is the perfect theme for showcasing your most important work directly in front of your potential clients.